I decided to add new serie of blog posts. There are many people, bloggers, designers that I love to follow and I want to share them with you. So this kind of posts will be called 'Meet new people'.
Let me introduce designer behind beautiful creations,
Dori
!
What was you first creation and your family reaction on it?
Well, I don't really know what I should call "creation", but I think I will choose was a necklace that I finally finished after having made many beads and odd pieces. It had a "primitive" look and it is still my favorite. I wanted to go in that direction but then got sidetracked and ended up creating entirely different things. Now I would like to return to that line and create somewhat similar pieces.
My family was really enthusiastic about it, especially my brother, he even tried it on as a joke! :D This was a surprise as I didn't think they would care much about them at all.
What is your favorite part of creativity process?
When I have a good idea and I manage to realize it. Or when I just play and experiment and the outcome is unexpectedly good. And that part when I take my pieces out of the oven! I also love it when I get completely engrossed in a piece or things I'm working on and I don't even notice what's going on around me or inside of me.


Do you have your favorite creation?Why?
My absolute favorite is the "Stone Age" necklace I mentioned earlier. I love everything about it: the natural colors and the way it looks as though it had been burned, or maybe even cured in a kiln, its "primitive", earthy look. When I made it, I made a lot of odd beads and pieces from the same batch and from plain black clay, which I then laid out on my kitchen counter after they'd come out of the oven. When I went back to the kitchen to put it all away I found an excavation site! :D It looked like I just unearthed an ancient village of some kind and found their primitive tools and beads.
It totally fascinated me.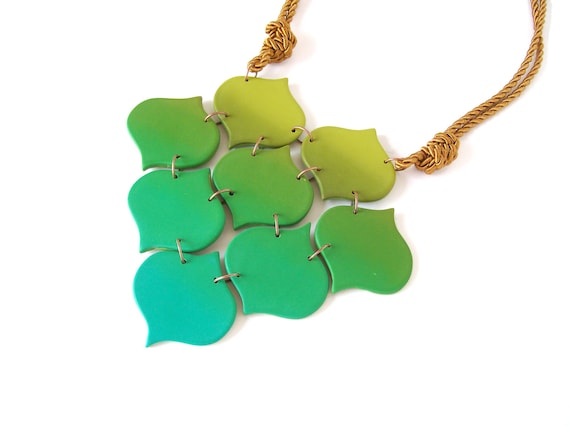 I also very much like some of my larger creations. I love the green leaves one, it is just something I look at and I think - well done, Dori! :D I love the colors of it, too.
I also love the big sea-pieces.
I also very much like the art deco bib necklaces, especially the green-yellow one and the colorful one that reminds me a little of Gaudi buildings.
How many hours/days does it take to make one piece? (min/max)
No idea! I only know that for the art deco bib necklaces I need about 2 hours to carve the base and about 5-6 hours to fill in the sections (mixing the colors etc). Then there are other pieces which need 3-4 or even 6 firings. And I make them for months...
Maybe the shortest time is about 30 minutes to an hour, but that is not counting the baking (30 minutes minimum), the sanding and buffing (if it is a pair of earrings, then it is about 10-20 minutes) and actually putting it all together (which in case of the earrings can be as short as 5 minutes, this includes finding the write ear wire and jump rings as well).
Do you like making everything by yourself or would you like sometimes to get some help?
I love making everything myself. At least at this point. Although sometimes I wouldn't mind it if the pieces were self-sanding ;).
What shapes, patterns, colors combinations do you like to make the most?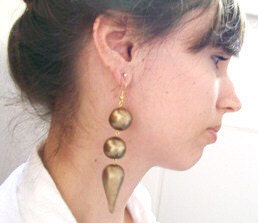 I love to do different things all the time. I still need to experiment a lot, and I would like to use more colors but in more subtle combinations. Generally though I think I love making simple large round beads. I just love that feeling when you roll the bead between your palms. And then you roll some more. And then it becomes seamless. If you are really patient and take your time with it.
Some of my all time favorite colors are green, green and turquoise shades, gold with other colors, and right now I very much like brown, tan and gold shades with blues and teals. I also love browns and whites.



Is there a hidden meaning that you want to share through your creations?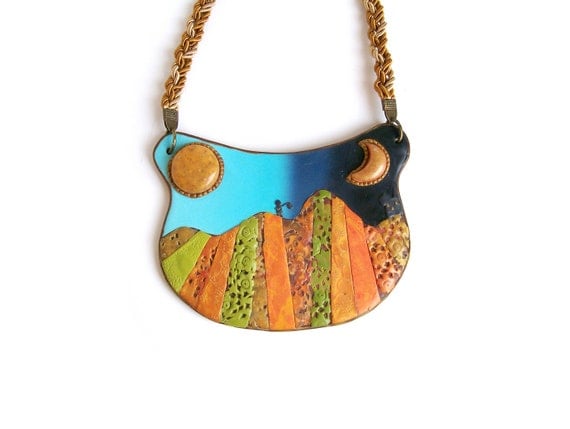 My story necklaces have their own meanings through the story which they illustrate, and there are a few pieces I only have as ideas or drafts that do have meanings or are self-portraits.
If you could imagine your own world, How It will looks like?
People would be able to fly. We wouldn't have to worry about bodily functions, wouldn't need to eat or sleep for instance in order to keep ourselves going. We could do all these things of course (I love eating and sleeping, too) but they wouldn't be necessary for normal functioning. Or we could satisfy our hunger with the smell of food, like fairies ;). There wouldn't be heaviness in our limbs. Everyone would wear colorful robes and would only dress differently when they feel like it, but no one would stare at you for looking different. People could easily communicate telepathically, and you could get anywhere by wishing to be there.
How do you prefer to spend your free time?
Working with clay. :P
Well, I love reading, listening to audiobooks, music, daydreaming, sleeping, walking, getting lost (not when I'm supposed to be somewhere though), surfing the net, watching movies, baking, hanging out with good friends, and being goofy. I'm sure there are a lot more things as well... It always changes, depending on my mood. I think I have phases when I like to do more of this for a few months, then more of that for the next period of time.
What is a perfect day for you?
I don't think I could fit it all into just one day :D. But maybe a day that starts with a very long, leisurely breakfast. On the table there is some deli meat, cheeses, fresh veggies, especially tomatoes, jelly, honey, butter, tea, hot chocolate milk and some cereal. I would eat in peace for about 45 minutes. Then I would meet a friend and we would go for a long but unplanned walk. It would be sunny, warm or cold doesn't really matter as long as it's not too cold and not too hot.
The end of the day would be maybe simply collapsing on the bed and falling asleep because I would be exhausted and I could sleep through the night :).
Have you some plans on your creativity or do you prefer simply enjoying your life?
No, I don't have plans, I want to simply enjoy it. I want to work with clay only as long as I enjoy it. So I'm actually thinking that maybe I will open a section in my shop where I would put my experimental pieces to be sold at a much lower price, or maybe for the price to be negotiated. This way I could better afford to just "play". And so those pieces that can be worn and actually come to something but are not really my best and / or do not fit in with the rest at all could still find an owner and I won't have to keep them lying around.
Etsy Shop
❤ Facebook Page
❤ Blog
Thank you, Dori!!!!
And here is the beautiful necklace that was in my Wish list and now belongs to me! I love it! It has unusual pattern and very smooth surface, Its very pleasant to touch it!
Im waiting for the Spring, so I can wear it! I love unique things and Dori's creations are definitely unique and beautiful!